Este é o playlist de lançamento de Guitar Hero Live
Anderson Marlon,
0 comentários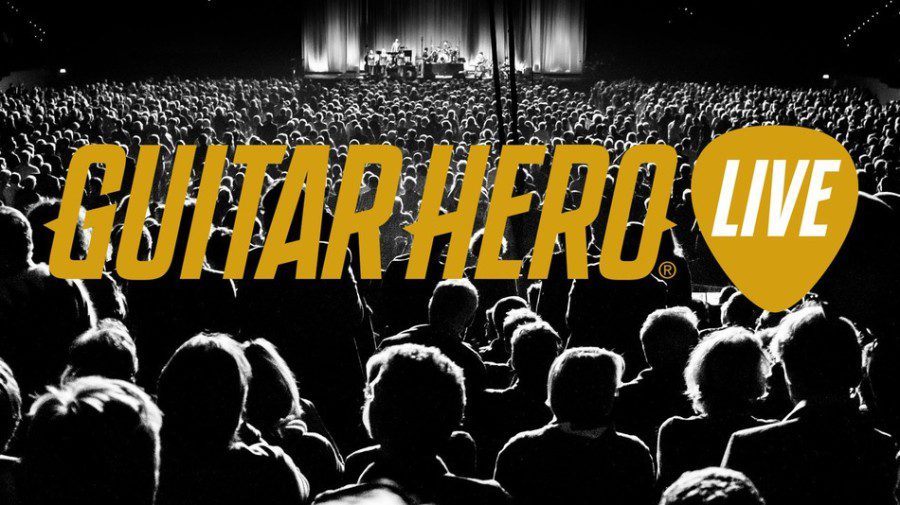 A
Activision divulgou a lista de tudo o que você vai poder tocar assim que Guitar Hero Live chegar às lojas:
A Day to Remember – "Right Back At It Again"
Alice in Chains – "Stone"
Alt-J – "Left Hand Free"
Alter Bridge – "Cry of Achilles"
American Authors – "Best Day of My Life"
Angus & Julia Stone – "A Heartbreak"
Anthrax – "Got the Time"
Architects – "Grave Digger"
Asking Alexandria – "The Final Episode"
The Avett Brothers – "Another is Waiting"
Band of Skulls – "Asleep at the Wheel"
Beartooth – "I Have A Problem"
Biffy Clyro – "Sounds Like Balloons"
The Black Keys – "Gold on the Ceiling"
Black Veil Brides – "In the End"
Blitz Kids – "Sometimes"
Bob Dylan – "Thunder on the Mountain"
Bring Me The Horizon – "Shadow Moses"
Broken Bells – "Leave It Alone"
Bruno Mars – "The Lazy Song"
Bullet For My Valentine – "Temper Temper"
Calvin Harris – "Feel So Close"
Carrie Underwood – "Before He Cheats"
Catfish and the Bottlemen – "Kathleen"
Chevelle – "The Clincher"
Courtney Barnett – "Pedestrian at Best"
Cypress Hill feat. Tom Morello – "Rise Up"
Deap Vally – "Lies"
Deftones – "Diamond Eyes"
Disturbed – "Down with the Sickness"
Dum Dum Girls – "Rimbaud Eyes"
Ed Sheeran – "Sing"
Fall Out Boy – "My Songs Know What You Did In The Dark (Light Em Up)"
Foster the People – "Coming of Age"
Gary Clark Jr. – "Don't Owe You a Thang"
Green Day – "American Idiot"
Green Day – "Nuclear Family"
Halestorm – "Love Bites (So Do I)"
Iggy Pop – "Lust for Life"
Jake Bugg – "What Doesn't Kill You"
Jet – "Are You Gonna Be My Girl?"
Judas Priest – "Breaking the Law"
The Killers – "When You Were Young"
Killswitch Engage – "In Due Time"
Kongos – "Come With Me Now"
Korn – "Freak on a Leash"
The Lumineers – "Ho Hey"
Marilyn Manson – "Disposable Teens"
Marmozets – "Move Shake Hide"
Mastodon – "High Road"
The Mowgli's – "San Francisco"
My Chemical Romance – "Na Na Na"
Of Mice And Men – "Bones Exposed"
OneRepublic – "Counting Stars"
Neon Trees – "Everybody Talks"
New Politics – "Harlem"
Pantera – "Cowboys from Hell"
Paramore – "Now"
Paramore – "Still Into You"
Pearl Jam – "Mind Your Manners"
Pierce the Veil – "King for a Day (feat Kellin Quinn)"
The Pretty Reckless – "Going to Hell"
Queen – "Tie Your Mother Down"
Rage Against the Machine – "Bulls on Parade"
Rage Against the Machine – "Guerrilla Radio"
Red Hot Chili Peppers – "Higher Ground"
Rise Against – "Tragedy + Time"
The Rolling Stones – "Paint It, Black"
Royal Blood – "Little Monster"
Skrillex – "Bangarang"
Sleigh Bells – "Bitter Rivals"
Soundgarden – "Been Away Too Long"
The Strokes – "Under Cover of Darkness"
Tenacious D – "Tribute"
Trivium – "Strife"
TV On The Radio – "Lazerray"
The Vines – "Metal Zone"
Vista Chino – "Sweet Remain"
The War on Drugs – "Under the Pressure"
Weezer – "Buddy Holly"
White Zombie – "Thunder Kiss '65"
Wolf Alice – "Moaning Lisa Smile"
Wolfmother – "Sundial"
ZZ Top – "I Gotsta Get Paid"
Através de uma olhada nessa playlist, sentimos falta de duas grandes bandas relacionados ao verdadeiro Rock N' Roll, Iron Maiden e Metallica não estão inclusos, isso realmente é algo estranho de se notar, no entanto, isso é a playlist de lançamento, anteriormente foi anunciado que Avenged Sevenfold estaria inclusa na playlist com a música "Hail to the King", mas como podem ver, ela não está nessa lista.
Resta a gente aguardar e ver realmente o que acontece, se haverá mais música na faixa bônus ou disponíveis de alguma forma através do Guitar Hero ou se essa de fato é uma playlist fixa.
Guitar Hero Live tem lançamento previsto para 20 de outubro com versões para PlayStation 3, PlayStation 4, Xbox 360, Xbox One e WiiU.